Story originally appeared on Hilton Grand Vacations.
As a hub of thrilling theme parks, Orlando draws a constant stream of visitors year-round. But the burgeoning culinary landscape is fast becoming another good reason to book a trip to the City Beautiful — if you know where to look.
With several James Beard Award nominees and a penchant for restaurants that cater to families, Orlando offers something for every type of traveler.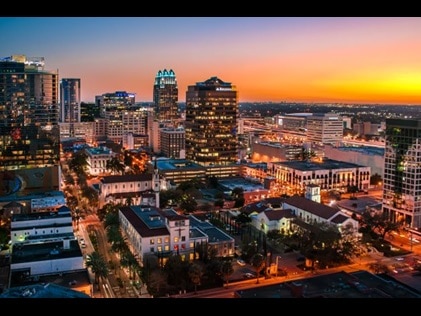 We asked three local chefs and culinary experts to dish on the best food in Orlando, both in and outside of the theme parks. What we got in return was a list of gems worthy of any foodie's wish list.
"Orlando has become quite a diverse city, and the food offerings reflect that," says restaurant critic Scott Joseph, a 30-year veteran of the Orlando food scene. From food trucks and theme park cafes to chef's tables, you'll want to keep these recommendations in mind on your next Orlando vacation.
Disney Springs Restaurants & Theme Park Eats
All of our foodies suggested a visit to the restaurants at Disney Springs. Freshly revamped with a unique mix of both marquee and celebrity-chef-driven establishments as well as local purveyors, it's the ultimate spot for family dining.
"In the past few years, Disney Springs began welcoming local restaurateurs in addition to the national, well-known chefs, and I think that's very exciting," says Alexia Gawlak, chef, and owner at Swine & Sons restaurant in Winter Park, a suburb of Orlando. With two school-age children at home, Gawlak knows a great family-friendly restaurant can be hard to come by.
One of her favorites is The Polite Pig, a counter-service barbecue restaurant by the owners of local gastropub and four-year consecutive James Beard nominee, The Ravenous Pig. The Disney Springs spot features hearty barbecue sandwiches, racks of mouth-watering ribs, and the classic kids' favorite, mac and cheese. "It's really nice to see our local food people represented there," says Gawlak.
For delicious wood-fired pizzas, Joseph recommends Wolfgang Puck Bar & Grill.
"The pizzas are great; it's what they're known for. I'm also a fan of the schnitzel and the meatballs."
Raglan Road Irish Pub & Restaurant is another buzz-worthy Disney Springs restaurant in Joseph's book. "Chef Mark O'Neill serves stylized Irish fare that's elevated," he says. The restaurant's "Shepherd's to Die for Pie" and fish and chips plate are crowd favorites. There's also a robust schedule of live music and Irish dancing to keep kids — and adults — entertained.
For small plates, Pam Brandon, an author and managing editor at Edible Orlando magazine, recommends Jaleo by beloved philanthropist chef José Andrés. The hipster Washington, D.C., hot spot opened its second location in Disney Springs a couple of years ago. Brandon suggests anything on the menu labeled "José's Way," as this section features the chef's specialty dishes.
Another great tapas spot is the Dahlia Lounge, located inside the Coronado Springs Resort at Disney World. "It's easier to get a table here than at its fancier sister restaurant next door, Toledo, because it's a bit more casual. It's got a great view from the rooftop terrace, and the charcuterie plates are wonderful," says Brandon."It's a perfect place for a date night."
For a memorable meal inside the theme parks, there's nothing like Chefs de France, a brasserie at Epcot. "Three of the most famous chefs in the world started it," says Joseph. "The steak tartare is wonderful, and you can get an authentic, refined French meal, even if you're wearing shorts and a T-shirt; it's pretty unique."
Authentic Ethnic Eats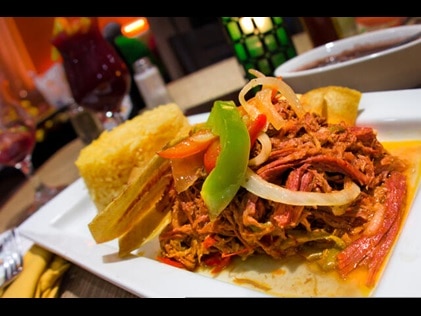 The heart of Orlando encompasses several charming, brick-paved neighborhoods, where there's been a culinary explosion of locally owned and chef-driven restaurants over the past decade. Home to a sizable Vietnamese population, this is where a lot of the city's best and most authentic ethnic eats are found. A spot that Joseph enjoys is Viet-Nomz in Winter Park. "It's an easy, quick-serve restaurant with great food and a young, cool vibe," he says.
Owned by a local Cuban family, Black Bean Deli is another perennial foodie fave with two locations: downtown Orlando and Winter Park. "It's very authentic; the owners are [very hands on] and the mojo chicken is terrific," says Gawlak. Here, diners can indulge in ultimate comfort-food favorites like Cuban sandwiches, crispy empanadas and a variety of scrumptious daily specials.
When she's craving tacos, Brandon is a fan of the Black Rooster Taqueria. "They make a pozole verde soup with shredded pork and roasted tomatillos that is so satisfying," she says.
Near International Drive and Sandlake Road, Brandon also recommends Nile, an Ethiopian spot where guests are encouraged to eat with their hands. "It's quite an experience, and so delicious!" she says.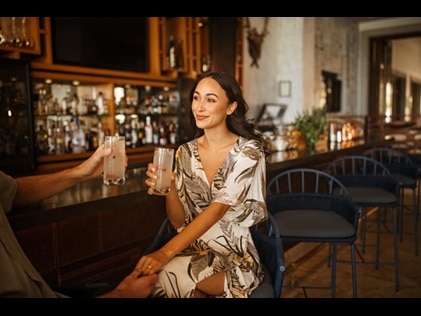 Eating Local
Not only is choosing locally owned restaurants on-trend, but so is eating locally grown food — and Orlando does not disappoint in either capacity.
In the suburb of Winter Park, Prato is a foodie favorite. "I love the widowmaker pizza," says Joseph. The dish comes with hazelnut Romesco, fennel sausage and a farm-fresh egg on top. The meatballs are also on his list of must-eats. For Brandon, the dish of choice is the Caesar salad made with escarole instead of Romaine. "It's the best Caesar salad in the entire city," she says.
Closer to downtown, a great meal always awaits at The Strand, a neighborhood restaurant with only a few tables that specializes in fresh, locally grown food. "Almost everything on the menu is locally sourced," says Brandon.
For more of that neighborhood vibe, Delaney's Tavern is Joseph's top choice near the city center. "Shrimp and grits is a bit of a tired dish, but the chef here adds scallops and purple grits, which takes it to another level," he says.
Just a few minutes away, Soco Thornton Park serves up a chicken and dumplings dish that's also exceptional. "It's more like a chicken and lobster ravioli," says Joseph."I prefer to sit at the bar here, because there's such a neighborhood feel to the place.It's got a cool downtown ambiance, too."
Like any great food city, Orlando has something for everyone, but you have to be willing to get out and explore. "If you stay near the tourist areas, you might assume we have mostly chain restaurants — but that's like visiting Times Square in New York and thinking you've seen everything that city has to offer," says Joseph.
If you do a little digging, you'll find that Orlando offers a wide array of niche restaurants to fit every taste. When staying at a Hilton Grand Vacations property in the area, you'll have a great home base to explore the best food in Orlando — and much more.