Story originally appeared on Timeshares Only.
If you're planning a trip to the Happy Island (and you totally should), you might be wondering "when is the best time to go to Aruba?" Honestly, anytime is a great time to visit this tropical paradise. But depending on your vacation priorities some months may be better than others. Your preferences may depend on weather tolerance, crowd preferences or seasonal excursions. We'll go through the best and worst time to visit Aruba, but there is hardly a bad time at all.
Average Aruba Weather Year-Round
Planning a tropical getaway from the cold at home? Or planning for the ultimate summer vacay? Maybe you don't want it to be too hot, cold, humid, or rainy. On average, weather in Aruba hardly goes below 75 degrees, so you never have to worry about packing a jacket. Aruba's weather in the winter months is warm and sunny, with little rain. The great news is Aruba is also outside of the hurricane belt, so chances of threatening storms are very slim.
In peak summertime, weather in Aruba during June or July can reach as high as the 90's. This makes the water warmer to swim in! It's also a little more humid during this time, so if you're looking to avoid some wet air make sure to plan an Aruba vacation from April through August.
Visit Aruba early in the year for cooler temperatures and little rain. It's a great tropical getaway from the snow up north. If a true island vacation is what you're after with tons of sun and warm waters, April through August will be your best bet. The most rainfall is seen from September to December in Aruba, but most days are still going to stay warm. The best time to go to Aruba in terms of weather though is probably going to be in the summer months when it's warm and there is little rainfall.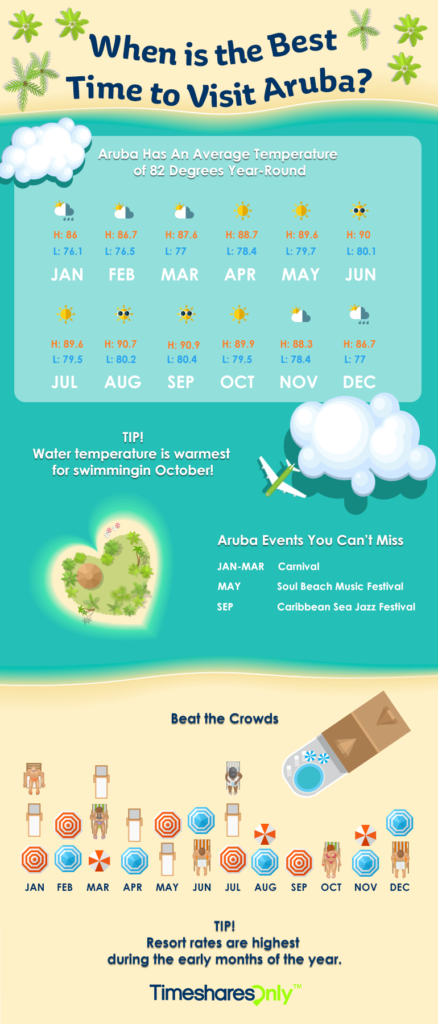 Aruba Tourist Season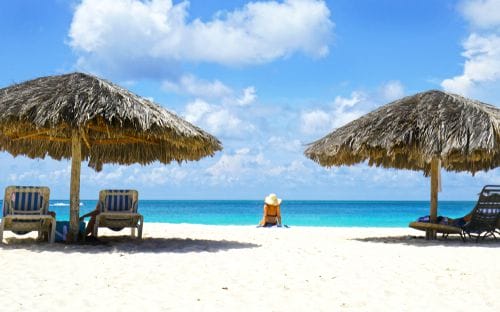 While being one with the crowds can be exciting and bring a little more excitement to your vacations, some travelers prefer more calm atmospheres and extra elbow room. Aruba tourist season is at it's peak in January through March, when most people are escaping their chilly winter weather. While the off-season in Aruba is technically from April to August, July is another exceptionally busy month for tourism, but not nearly as packed. The slow season runs into September, but the crowds will start to shuffle in again by November and December.
If you don't mind the crowds but are concerned with resort prices, January to March is going to be a time to avoid. You'll probably spend more of your club points or see higher hotel prices compared to any other time of year. Looking for a deal and fewer crowds? The best time to go to Aruba will be in April through August.
Check Out the Best Aruba Events
There are plenty of days full of pink-sand beaches and laying in the Aruba sun. Some events, however, only happen once a year. Aruba hosts a number of exciting festivals that are most definitely worth attending or planning your vacation around. One of these festivities can make for a once-in-a-lifetime chance to experience island culture. If you're looking for the best time to go to Aruba for celebrations and events, make sure you plan a trip around one of these festivals.
Carnival
During the first quarter of the year, the island comes to life with Carnival. Taking place over a month from early January to early March, Carnival features colorful floats pulsing with dancers dressed in intricate, feathered costumes.
Soul Beach Music Festival
In May, make time to head to the island to attend the Soul Beach Music Festival. Here, A-list R&B and Soul headliners like Alicia Keys, Ne-Yo and D'Angelo croon into the night. Your best bet to make this part of your Aruba vacation is to book early! Tickets sell out fast.
Caribbean Sea Jazz Festival
For two days in September, the island is transformed into a Jazz-lover's haven with the Caribbean Sea Jazz Festival. The festival caters to a variety of contemporary Jazz fans, featuring headliner the likes of Cubop City Band, Grupo Niche and the Ploctoons in recent years.
Best Aruba Timeshare Resorts
Don't take chances. Stay in a comfortable, luxurious resort with great amenities and plenty of space to ensure the best vacation you could possibly have with one of the best Aruba timeshare resorts. Timeshare owners can either use their points or weeks to stay at an Aruba resort within their club brand, or trade on travel exchange programs like RCI or II.
Occidental Grand Aruba
Diamond Resorts timeshare owners are able to stay at Occidental Grand Aruba, or Barcelo Aruba. This resort is affiliated with Diamond but upholds all of the same exceptional standards that are expected at Diamond resorts. All-inclusive with a prime location right on the beach, accommodations here do not fall short. A world-class casino, boat rentals and full-service spa are only part of the incredible amenities. Occidental Grand Aruba has timeshare units available for sale or rent at lower prices on the resale market.
La Cabana Beach Resort & Casino
Bluegreen Vacations members will be pleased to stay at La Cabana Beach Resort & Casino, an affiliated Bluegreen resort. Located on Eagle Beach with a dazzling oceanfront view, guests can enjoy a range of activities for families or couples on special getaways. Each unit has full kitchens and baths, as well as private balconies for relaxation. There are even La Cabana Beach Resort & Casino timeshares posted for sale or rent on our online market, and at much lower prices.
Browse More Aruba timeshares for sale➔
Recap: When is the Best and Worst Time to Go to Aruba?
Each individual's preferences can determine the best and worst time to go to Aruba. For travelers that want to beat the crowds (and maybe don't need to worry about the back-to-school bandwagon), the best time to go to Aruba would be in September. January, March, and September are the busiest times of the year, so hotel and resort rates go up. However, there are more events and activities during these times as well. Leave a comment below if you have visited Aruba, and what time of year you traveled. We would love to hear about your experience!