Sedona, Arizona's iconic scenery of red rock monoliths is beautiful during the day. However, Sedona in the summer can reach up to 100 degrees during the day. Once the sun sets, though, the summer heat disperses to comfortable evenings, making it easier for the whole crew to enjoy the stunning desert landscape by moonlight.
Escape the regular tourist crowd and see a new side of this beloved desert destination. For a vacation you'll never forget, add some nighttime activities to your family vacation in the Arizona desert. Here are five fun things you and your family can do at night in Sedona.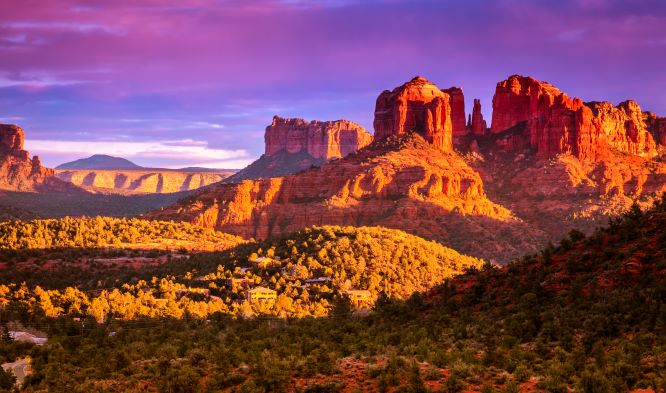 Vortexes and Sunset Views
Sedona is well-known for its vortexes — places of mysterious, swirling energy — said to have healing and meditative power. Travelers from all over visit these vortex sites and enjoy scenic Sedona, which means these hot spots can be busy.
Try visiting the Bell Rock Vortex at night for its easy trail and fantastic views of the red rock formation. Though you can see Bell Rock from Highway 179, check out the less than two-mile loop along the Bell Rock Pathway. You can even see other landmarks, such as Courthouse Butte. Though it's a mostly flat hike, prepare ahead of time with closed-toed shoes, appropriate clothing, a flashlight and plenty of water. With a little planning ahead, you can even capture unforgettable photos of the Sedona vortex at night. For the photographer in your family, check out these other scenic spots to visit in Sedona.
Take a Sky Tour
Speaking of scenic spots, Sedona is an ideal stargazing destination. Because of the lack of light pollution, you can see a breathtaking number of stars once the sun sets. Ramp up the wonder factor with Evening Sky Tours, only a 20-minute drive from the center of Sedona.
These nighttime tours take small groups on an expedition among the night sky, led by professional astronomers. If you have any future astronomers in your family, they'll love the large, state-of-the-art telescopes and the chance to see celestial objects — such as star clusters, planets, galaxies and more. Enjoy identifying constellations and hearing the stories behind the ancient civilizations that named them.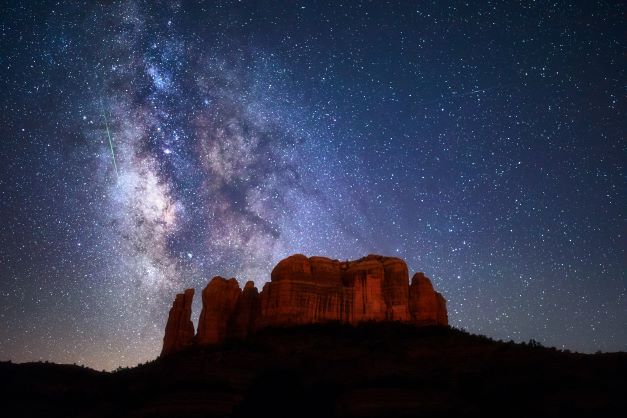 Hike Under the Full Moon
If your interests are more down-to-earth, there are plenty of state parks in the area. Buy an Arizona State Parks Pass can provide economical access to two state parks in Sedona and three more in the Verde Valley. With plenty of outdoor activities for the whole family, the fun doesn't stop when the sun goes down.
For a special after-hours event, head to Red Rock State Park for a guided evening tour. Park rangers walk you to the best viewing vistas to watch the red rocks glow at sunset and see the full moon rise over the canyon. Along the way, the rangers will point out nocturnal plans and animals and tell stories of Sedona's ancient and local history. This two-mile hike takes about two hours, so prepare accordingly.
Look for UFOs
Are the science fiction fans wondering what to do at night in Sedona? Many don't realize that Sedona is a hotbed of alleged UFO activity. Have an unforgettable after-dark experience for travelers of all ages when you book an adventure with UFO Tours.
Even non-believers can enjoy the tour, where you can use military-grade night vision equipment and see the night sky in a new way. Guides will point out unique sky phenomena, such as airplanes, satellites and other strange lights in the sky. The company guarantees UFO activity and an evening of interesting sights and conversations.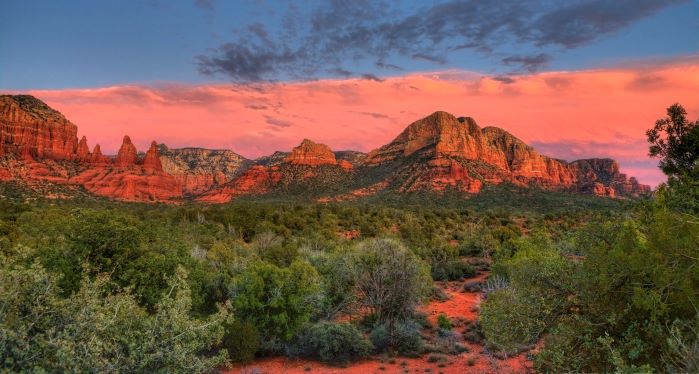 Take a Sunset Tour
If your ideal vacation doesn't include a hike, but you don't want to miss out on sunsets, there are a variety of Jeep® tours that take you to the most scenic spots in Sedona.
Consider booking the Broken Arrow four-wheeling tour with Pink Jeep Adventure Tours. Marvel at the expansive views of the Southwest wilderness at sunset during a thrilling off-road excursion. The tour takes riders through parts of the Coconino National Forest, where Hollywood's top westerns were filmed, including Jimmy Stewart's "Broken Arrow." Be aware that this adventure isn't suitable for children under 2 years old and that guests with limited mobility may not be able to access all the viewpoints.
Head into Sedona's red rock canyons with Safari Jeep Tours on the Outback Trail for a milder adventure. Learn about history, geology and ecology on a tour that's not too rough but just as entertaining. No matter the tour, everyone will enjoy the watching sweeping sunsets.