Story originally appeared on Timeshares Only.
When you're planning your next tropical vacation, check out the best surfing in Hawaii to make a huge splash and tons of memories. It's considered one of the best beaches to surf in the United States! Whether you are a beginner or have been catching waves for years, the best surf spots in Hawaii can guarantee you have a great time out on the water. While you're here, we have some suggestions of luxury Hawaiian resorts that you might be interested in renting—or owning!
History of Surfing in Hawaii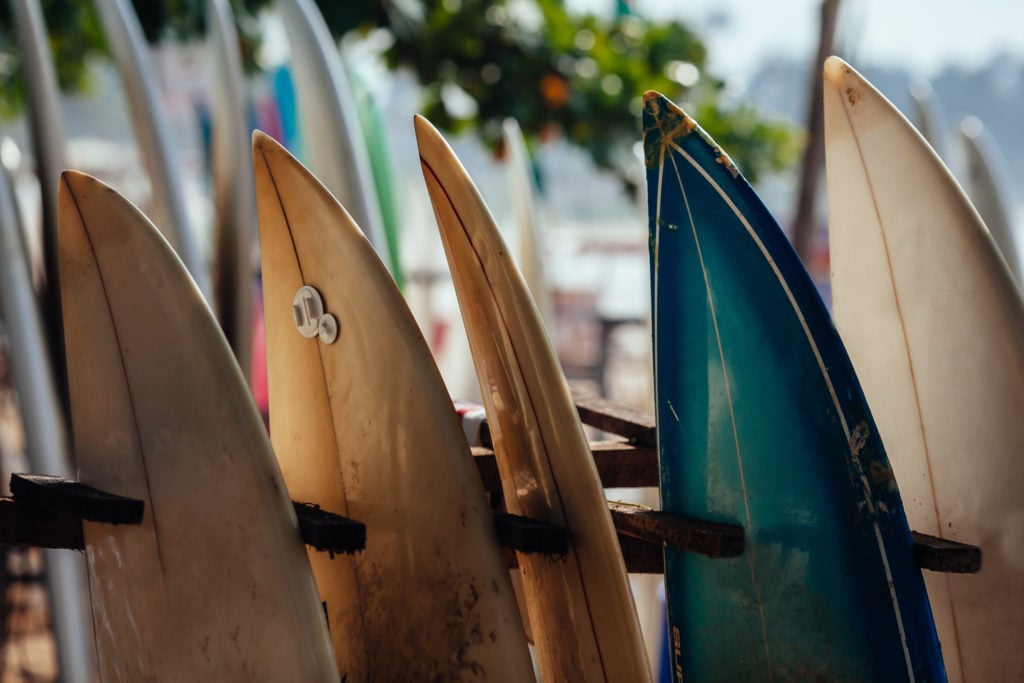 When Polynesians made their way to the Hawaiian Islands from Tahiti and Marquesas, they also brought their leisurely activities with them. From the 4th century A.D., they played in the surf on Paipo (belly) boards. From here, the art and athleticism to stand upright and surf the waves originated. Lieutenant James King was the first to record surfing in his ship's logs in 1779. The best surfing in Hawaii quickly became a daily part of their culture, with ancient chants to the Gods asking for big waves and christening surfboards. Many Hawaiian chiefs were also known for their advanced ability to surf.
In the early 1900s, surfing was almost at its extinction. The rebirth came about when Jack London and his wife took a vacation in Oahu. They met Alexander Ford Hume, George Freeth, and another man named Ford. The four of them shared a love for surfing and in 1907, Jack London's published an article about the "sport of Kings" that forever changed the history of Hawaiian surfing. Later on in the 1940s, many American soldiers stationed at Pearl Harbor were also introduced to the best surfing in Hawaii, and the sport continued to grow to the phenomenon that it is today. Makaha Beach, Sunset Beach and Waimea Beach are among the best spots in Hawaii to surf.
Best Surf Spots in Hawaii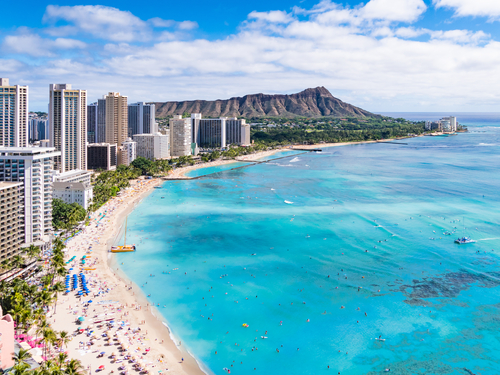 Whether you plan on traveling to the Big Island, Maui, Oahu, or Kauai, there are great spots to surf at. Locals say that the absolute best place to catch some waves is on the North Shore of Oahu, even if you are a complete beginner. The summertime will be ideal for less advanced surfers, as the water is much tamer.
Oahu Beaches to Surf
Ala Moana Bowls
Just ten minutes away from the Wyndham at Waikiki Beach resort is one of the best surfing spots in Hawaii, on the south shore of Oahu. The two-mile stretch of the beach has some of the most impressive summer surf breaks on the island. Duke Kahanamoku, Olympic gold medalist for swimming also was a frequent visitor here for surfing.
Diamond Head Cliffs
Diamond Head Cliffs is one of the most popular spots at Diamond Head. The waves are calm in the AM as well as after 4 PM, making it easier for beginners. The Cliffs are in the middle of three/four separate breaks, with gorgeous views and the opportunity to even simply watch the locals. This beach is also nearby Waikiki, where tourists commonly visit in Oahu.
Sunset Beach
The North Shore of Oahu has some of the best surfing spots in Hawaii. Many of the most popular resorts and tourist attractions are close to the south of Oahu, so a day trip is in order (just over an hour's drive). Leave Sunset Beach to the pros, however, when the waters become more aggressive and dangerous come winter. It's great for sightseeing and watching advanced wave riders, especially since it hosts the legendary Triple Corn of Surfing Championships.
Wyndham at Waikiki Beach
Club Wyndham owners can use their Wyndham points to stay at this luxurious resort in Oahu. Only ten minutes away from Ala Moana Bowls, you'll be surrounded by exciting excursions and activities. Wyndham at Waikiki Beach Walk is conveniently located nearby some of the top Hawaiian activities visitors look forward to. Take in specialty island shopping, delicious varieties of cuisines, and live entertainment. What's more, the whole family can come in tow and stretch out in one or two-bedroom suites, complete with fully-equipped kitchens and spacious living/dining room areas.
Grand Waikikian by Hilton Grand Vacations
Hilton Grand Vacations Club offers some of the most astounding and impressive accommodations at every resort. The Grand Waikikian is no different—you'll be "wow-ed" as you gaze upon the 39-story tower over Waikiki Beach. With on-site amenities like a spa, dining options, arcade, pool, and fitness center, you'll feel right at home. In addition, the accommodations here range from one to two-bedroom suites, and even penthouse options. Spread out in the spacious living room areas, and enjoy a nice homecooked meal in the fully-equipped kitchen.
Maui Beaches to Surf
Kaanapali Beach
You might know this beach as one of the most beautiful spots to surf in Hawaii. The waves tend to be short, but make a near-perfect experience every time for surfing and paddleboarding. In the winter, expect rough waves and remember to keep your eye on the ocean.
Kihei Cove
This is one of the top choices for beginner and intermediate crowds, where there are waves that aren't too intimidating. Maui beaches are known for being very windy, but here the surf is just a wildly fun time. The swell can roll in over 100 yards, and even paddleboarders enjoy Kihei Cove.
Guardrails
With a quiet environment and welcoming atmosphere, Guardrails is great for beginners and intermediate wave riders. As one of the best surfing spots in Hawaii, it can also be a little tricky with sharp coral and rocks in the water.
Hyatt Ka'anapali Beach Resort
This Hyatt Residence Club Ka'anapli Beach Resort lies on one of the most luxurious beaches in the world—right on Maui. Enjoy 2,000 feet of pristine beaches and tropical sanctuaries. Enjoy one, two or three-bedroom villas, featuring complete gourmet kitchens and spa-like bathrooms. Private lanais offer impressive views of the mountains or the Pacific Ocean. Hyatt Residence Club owners can use their points for reservations here and experience the best surfing in Hawaii during their stay.
Marriott's Maui Ocean Club
Also located on the shores of Ka'anapali Beach, this Marriott Vacation Club resort offers luxury and aloha-vibes all-in-one. Marriott resorts include thoughtful amenities that can't be found anywhere else, and Marriott's Maui Ocean Club is no different. Enjoy a stroll outside with walking bridges, or visit the pool with a waterfall. On-site is also several restaurants, a fitness center, and a full calendar of activities for the entire family.
Kauai Beaches to Surf
Hanalei Bay
On the north shore of Kauai, you'll find the best surfing in Hawaii for locals. Hanalei Bay is known for having consistent waves, as well as three distinct areas for different skill levels. Each area has a different swell that makes it simpler for surfers to gauge their skills.
Kiahuna Beach
Novice surfers, swimmers, boogie boarders and snorkelers can all find something to love about Kiahuna Beach. It is nestled on Kauai's southeast corner and has the perfect waves for a fun experience. Locals warn beginners to stay closer to the shore, as the waves in Kauai come in sets of calm or sets of intensity.
Westin Princeville Ocean Resort
This Westin resort is only a short distance away from Hanalei Bay when you're looking for the best surfing in Hawaii. It is located on a stunning cliff, overlooking the Pacific Ocean across 18 acres. Marriott Vacation Club owners are also able to use their points to book here. Enjoy a relaxing massage with an ocean-view at the spa, or visit one of several pools for a chance to unwind in the sunshine. Before you head off the property, enjoy on-site restaurants to curb your appetite. The Westin Princeville Ocean Resort is only about a ten-minute drive away from Hanalei Bay, and just over an hour away from Kiahuna Beach.
Surfing on the Big Island
Anaehoomalu Bay
The Anaehoomalu Bay is a popular location for the best surfing in Hawaii, and also for snorkeling or windsurfing. It's location is on the Kohala Coast, right off Highway 19. The reef off-shore makes it fun for the whole family, so the kids can see interesting ocean-life, or take lessons for catching waves. This spot is great to visit if you're staying at Hilton Grand Vacations at Waikoloa Beach Resort, as it's only a few minutes away!
Honolii Beach Park
This great spot for surfing in Hawaii is popular amongst locals and advanced surfers. if you aren't confident in your skill level yet, it's also a great trip for people-watching. Play in the sand on the shore while witnessing some of the best surfers around ride the waves. The Honolii Beach Park is on the East Coast of the Big Island, so it's a bit of a drive from most resorts. However, if you're looking to see all that Hawaii has to offer, it should definitely go on your itinerary.
Kings' Land by Hilton Grand Vacations
Guests at Kings' Land by Hilton Grand Vacations have incredible access to a variety of amenities within the Hilton Waikoloa Village. It's easy to explore the entirety of the property, with trams offering transportation through the entire area. This resort sits on a four-acre ocean-fed lagoon and offers a complimentary Canal Boat cruise for seeing the unique wildlife in the area. There are three sparkling pools to choose from, as well as on-site dining options and a spa. Accommodations range from one to three-bedroom suites, complete with fully-equipped kitchens and spacious living/dining room areas.