Scottsdale, Arizona, might be known as "The West's Most Western Town," conjuring images of horseback rides, hoedowns and cowboy steaks, but there's so much more to discover on a Scottsdale vacation. Alongside American Western mainstays, championship golf courses and high-end shopping, you'll find plenty of Old West art and architecture to admire.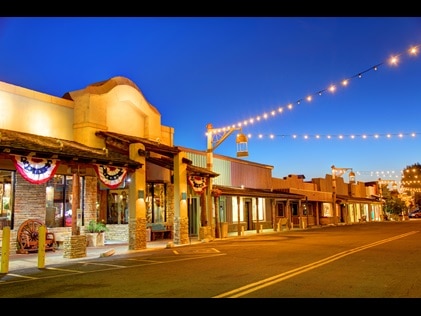 Scottsdale visitors with an affinity for the arts will appreciate Old Town — a renowned international art destination and home to buildings by Frank Lloyd Wright and other notable architects.
Below are seven ways to explore Scottsdale's art galleries, art events and bustling creative community.
Stroll the ArtWalk
Take a break from the authentic boardwalks in Old Town to participate in one of the country's oldest art walks, during which you can meander through the long list of art galleries in Scottsdale.
Cruise the cobbled streets of the arts district in a horse-drawn carriage or old-time trolley when you want to give your feet a rest.
There are plenty of galleries to browse along Main Street and Marshall Way, where the weekly Scottsdale ArtWalk happens every Thursday evening. Bubbling fountains, plant-shaded courtyards, live entertainment and enticing aromas from some of the city's best restaurants provide a pleasant backdrop for an immersive experience.
Consider stopping by Grimaldi's, where you can design your brick-oven pizza from a list of more than two dozen fresh ingredients.
Discover Wright's Timeless Architecture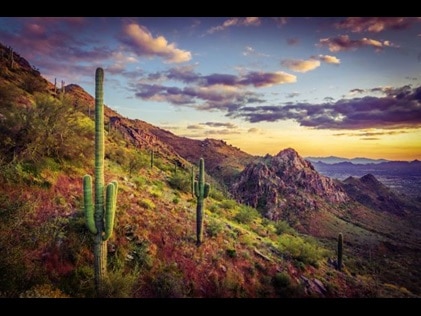 Explore Frank Lloyd Wright's winter "laboratory" at his expansive hillside home in Scottsdale. Taliesin West nestles into its luxuriant desert landscape, making a scenic backdrop for vacation photos at any time of year. Spring and fall bring vibrant blooms that add to the structure's natural beauty.
Take a drive to view more than a dozen of Wright's homes and other buildings in Phoenix, Scottsdale, Tempe and Paradise Valley. Consider booking a tour at the Arizona Biltmore, Gammage Auditorium or the David Wright House to get the full story behind the famous architect's storied designs.
Plan a Trip Around Seasonal Festivities
In March, the Scottsdale Arts Festival takes over the Scottsdale Civic Center, a perfect place to explore beautiful, flowering gardens amid splashing fountains. The three-day festival showcases breathtaking artistry from the best local talent and delicious fare from local restaurants and live entertainment.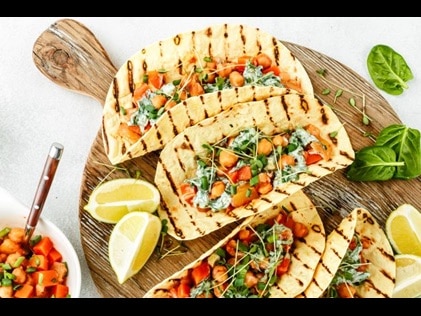 Food is truly an art form at the Scottsdale Culinary Festival, held in April each year. More than 35 restaurants participate in the event, with some of the area's most renowned chefs giving demos. Learn how to concoct tasty treats with cactus fruit or get a handle on how to whip up low-carb versions of Mexican classics.
Then, finish on a sweet note and check out beautiful confections.
Water, art and light are the focus of Canal Convergence, a 10-day festival in November that features artistic light installations around and above the Scottsdale Waterfront. The daily schedule includes music, dancers and other live entertainment.
Take a Ride to South Scottsdale
Ride the Scottsdale Trolley's Mustang Route from Hilton Grand Vacations' Scottsdale Villa Mirage to the Old Town Scottsdale art galleries. It's also easy to get to the Scottsdale Waterfront and the Civic Center via trolley.
Enjoy the sights on this complimentary and hassle-free transport that picks up just south of Frank Lloyd Wright Boulevard on Northsight Boulevard.
Peruse Public Art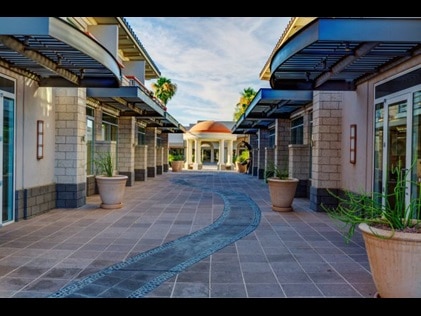 Get your camera ready when you take a public art tour or visit stunning public works on your own. Keep an eye out for some of the area's permanent installations, such as One-Eyed Jack, the 26-foot steel jackrabbit that greets you upon entering the Arts District from Marshall Way.
Copper Falls at the Scottsdale Waterfront plays melodic tones as water cascades over metal domes, creating its own natural rhythm as it interacts with the flow of the canal.
Find an interactive map of public art installations throughout the city on Scottsdale Arts' website. Better yet, take a public walking tour covering about three-quarters of a mile in Old Town to get the backstory of more than a dozen public art installations.
Bronze in the Sun
The Bronze Age is alive and well at Cosanti, located in neighboring Paradise Valley. Here, you can see the famous foundry that crafts Paolo Soleri wind bells. Stroll through lush desert landscaping on the grounds while the music of bronze and ceramic chimes washes over you for a soothing artistic encounter.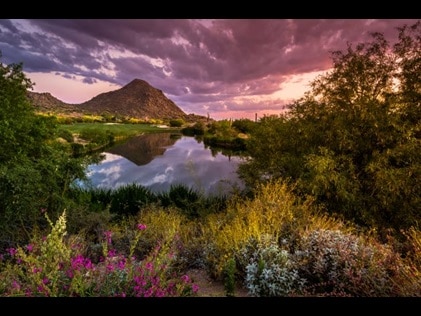 Take home a hand-signed, original bell by the world-famous architect and craftsman, choose a hand-crafted bell whose song speaks to you or select unique jewelry pieces to bring home as gifts.
Scottsdale is also home to the only bridge crafted by the artist. Visit the Scottsdale Waterfront to experience this one-of-a-kind structure, which is a solar calendar as well as a pedestrian walkway.
The bridge casts no shadow on June 21, extensive shading on December 21, and notes the spring and autumn equinoxes. Observe the shifting light as you follow a red stripe that visually guides you across the bridge for a truly unique experience.
Delve Into History
A walk through Old Town not only delights the senses with aromas from its restaurants and confectionaries, but it is also an ideal way to take a glimpse back in time. Catch up on the city's historical facts at The Little Red Schoolhouse — now a history museum – or run your hands over the original brickwork at the Mexican Imports shop, a great place to pick up memorable souvenirs.
Once you've explored the town, take a load off at the Rusty Spur Saloon, which once served as the town's original bank, or spoon up sweet refreshment at the Sugar Bowl.
Where to say: After a day filled with arts and culture, retreat to Scottsdale Links Resort, a Hilton Vacation Club, or Scottsdale Villa Mirage, a Hilton Vacation Club, to experience the traditional Southwestern charm of Scottsdale.
Read "Discover Two Utah National Parks, Plus Two Cities with Serious Buzz, on this Four-Day Road Trip" for more ways to explore the American West.