Story originally appeared on www.hiltongrandvacations.com.
Editor's note: These are unusual times, and some destinations have travel restrictions in place. No matter what you do, practice safe travels, and follow CDC and local guidelines.

When it comes to traveling between December and March, there are two types of travelers — those who escape winter's chill and those who chase it. Depending on which lot you identify with, you'll have a long list of winter vacation spots from which to choose.
However, between the Aspens and Arubas of the world, there are plenty of uncommon, albeit underrated, winter vacation destinations peppering the United States.
Here are 10 unique winter vacation spots worth checking out.
5 of the Best Low-key Winter Vacation Destinations with Snow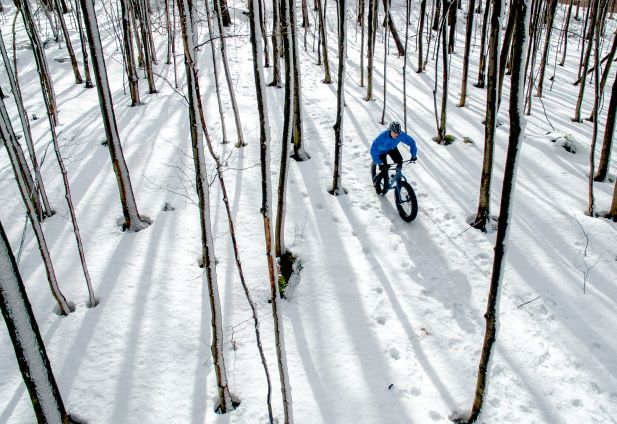 Traverse City, Michigan
Head to this charming small town to satisfy your need for heart-pumping winter fun. Located in the Northern Michigan region, Traverse City promises enough powder for outdoor sports enthusiasts of all skill levels.
With 58 downhill trails, 102 skiable acres and three terrain parks, visitors can snowshoe, snowboard, cross-country ski or downhill ski to their heart's content. When you're ready for a break from your ski boots, hit the bike trails on a flat tire bike, hop aboard a snowmobile or explore Sleeping Bears Dune.
This midwestern gem offers plenty for travelers preferring winter activities at a slower pace too — from winter shopping to regional sights. Day trip to one of the six historic lighthouses in the area or enjoy a Traverse City Wine Coast tour to warm up with libations in outdoor tents, yurts or igloos.
Stay: Hampton Inn Traverse City
Asheville, North Carolina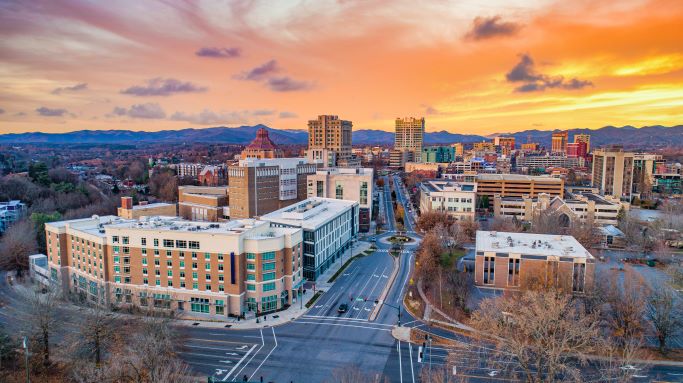 Crowned the Paris of the South in the early 1900s, this eclectic mountain city maintains its artisan culture today. Patrons enjoy winter festivals, theater performances and live music throughout the season.
Art and culture aside, mountain lovers will appreciate a trip to the oldest mountain range in America — the Appalachian Mountains, stretching 2,000 miles long and estimated to date back 480 million years. Additionally, Asheville is nestled in the Appalachians' famous Blue Ridge Mountains section, well-known for its hazy bluish glow.
The region's mild winter weather means visitors enjoy crisp hikes, including frosty waterfalls, dramatic winter sunsets and sunrises, and long-range views unique to the season. Round out your trip by exploring Asheville's 45 historical places, various iconic rooftop fireplaces or indulge yourself in one of the many spas.
Stay: The Foundry Hotel Asheville, Curio Collection by Hilton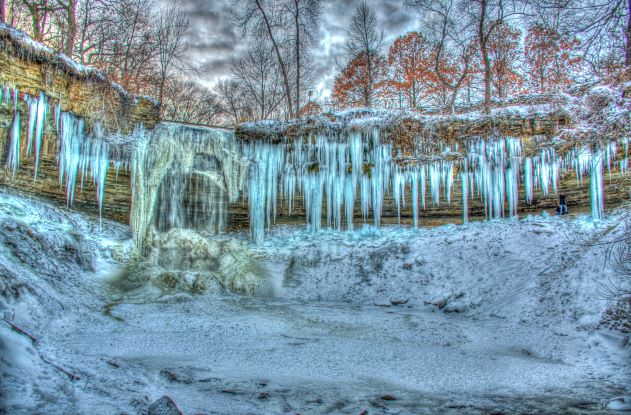 Minneapolis, Minnesota
The Twin Cities is synonymous with winter weather, and for travelers looking to embrace the chill, a stop here is a must. A visit to The Great Northern is worthy of a spot on your winter bucket list.
This snow- and ice-filled jubilee combines the U.S. Pond Hockey Championships, St. Paul Winter Carnival and City of Lakes Loppet Ski Festival into a 10-day seasonal celebration, including a torch-lit event through Minneapolis. Between each major event is a sprinkling of regional food and beverage, art and music events.
If you can't make it during The Great Northern, don't fret. You can twirl on ice skates, snow sled, ski or hurl snowballs all season long. But no matter when you visit, consider saving time for a day trip to Minnehaha Falls, a 53-foot-tall waterfall in Minnehaha Park that freezes into a remarkable wall of ice during winter.
And when you need a reprieve from the elements, Minneapolis boasts a Skyway System — 11 miles of climate-controlled pedestrian footbridges offering a comfortable way to explore the downtown area. Finally, for the complete Twin Cities experience, don't leave before checking out Mall of America and grabbing a famous Juicy Lucy.
Stay: Embassy Suites by Hilton Minneapolis Downtown
Hanover, New Hampshire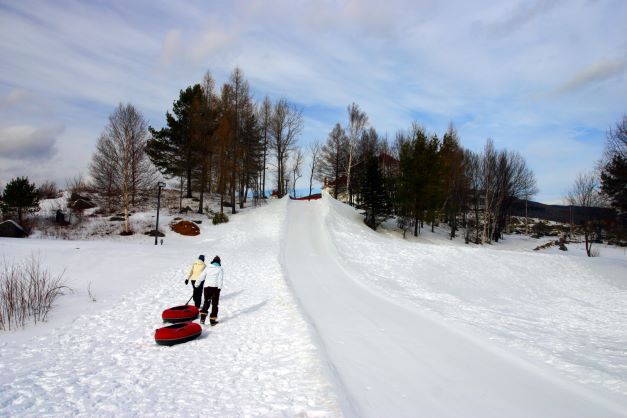 Located along the Connecticut River and home to the nation's northernmost Ivy League school, Hanover is just the spot for a white winter weekend away. Here, visitors enjoy the quaint charm of a small New England college town, complete with good food and plenty of nature, including the Appalachian Trail and the arts.
While Dartmouth Skiway and Occom Pond offer travelers a winter playground to partake in favorite seasonal activities, it's Dartmouth College's annual Winter Carnival that stirs up local excitement.
Since 1911, this winter festival has featured ski races, an ice sculpture contest, a polar bear swim and other snow-filled fun in February.
Stay: Hilton Garden Inn Hanover Lebanon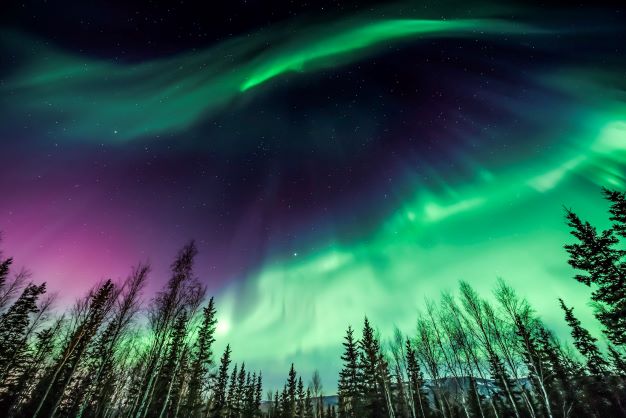 Anchorage, Alaska
For a winter experience like no other, make your way to one of the most northernmost cities in the United States: Anchorage. The city is well-known for its natural elements, such as trails, wildlife and glaciers. Adventure travelers can enjoy wintery outdoor activities, from glacier hikes to dog-sled tours.
However, few people know that Anchorage is also home to a vibrant arts community brimming with life-size murals, galleries and museums offering the ideal space to warm up.
For more cultural experiences, head to Fairbanks and visit the Museum of the North to learn about Alaska's natural history. As for the best way to get to Fairbanks? Travelers can hop aboard the Aurora Winter Train to ride through a winter wonderland. You might even spot some wildlife.
To top off the Alaskan experience, look to the sky above, and soak up the visual delight that is the aurora borealis, also known as the Northern Lights.
Stay: Hilton Anchorage
5 Must-try Warm-weather Winter Getaways in the U.S.
Crystal River, Florida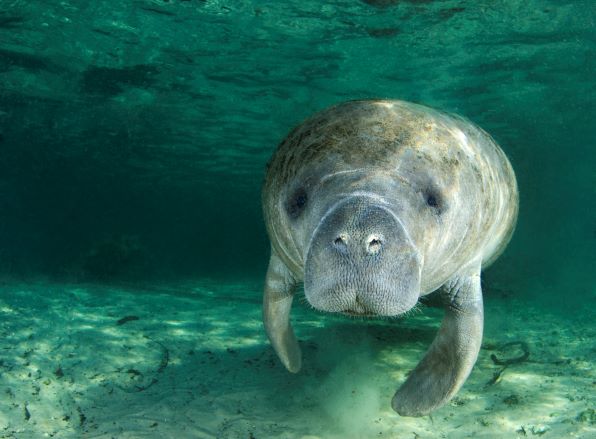 Home of the manatee. Just 80 miles north of Tampa, Kings Bay in Crystal River National Wildlife Refuge is one of the few places that, on any given day, you're likely to catch a glimpse of at least one of these gentle giants.
However, hundreds of manatees make their way to the perennially 72-degree freshwater springs during the winter months. Explore the Crystal River area further, and you'll find plenty of other reasons to make the trek too.
An average winter day is a pleasant 70 degrees and boasts sunshine, making it an ideal time to enjoy Crystal River's outdoor attractions. Check out Crystal River Archaeological State Park, home to possibly the country's oldest prehistoric human settlement, and Homosassa Springs Wildlife State Park. Active travelers can try kayaking the Chassahowitzka River.
Round out your time in the Sunshine State with a sunset picnic at Fort Island Gulf Beach to take in the Gulf Coast painted skies.
Stay: Hampton Inn Crystal River, FL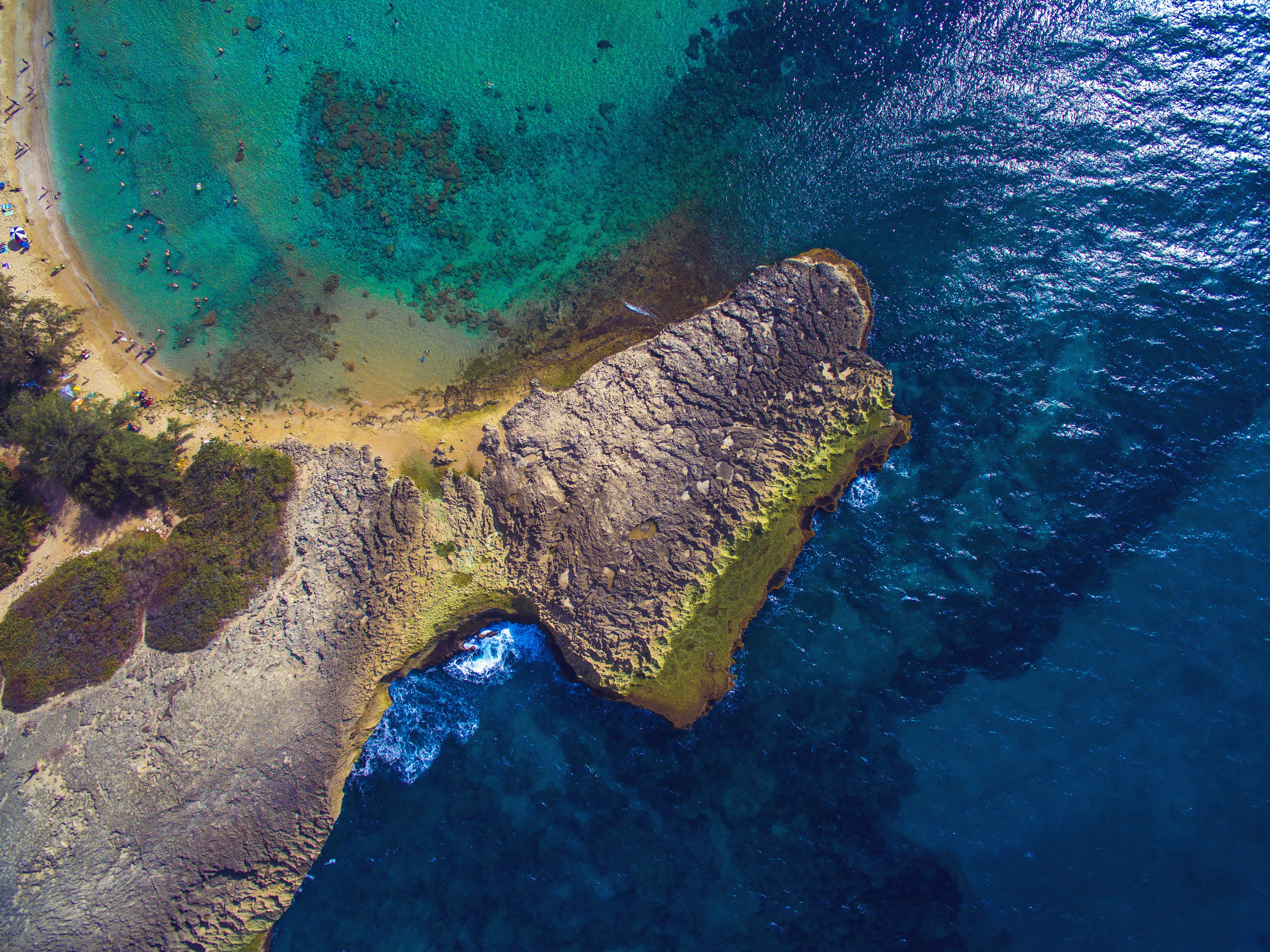 Puerto Rico
The Caribbean is no stranger to snowbirds seeking sun and sand, and Puerto Rico, known as the "gateway to the Caribbean," is an ideal destination to get your fill. The island's tropical climate makes for warm weather year-round.
However, winter affords visitors less rain and humidity, making for near-perfect weather to enjoy all the island offers.
Outdoor-loving travelers can explore El Yunque, the only tropical rainforest in the U.S. national forest system, home to 26 unique tree species and La Mina waterfall. To add a little history and culture to your trip, discover Old San Juan on a walking tour, and check out the UNESCO World Heritage site, La Fortaleza, and San Juan National Historic Site.
Of course, stunning beaches and water activities are always a go-to if you simply want to dig your toes in the sand or enjoy a catamaran sunset cruise.
Stay: Hilton Ponce Golf & Casino Resort
San Antonio, Texas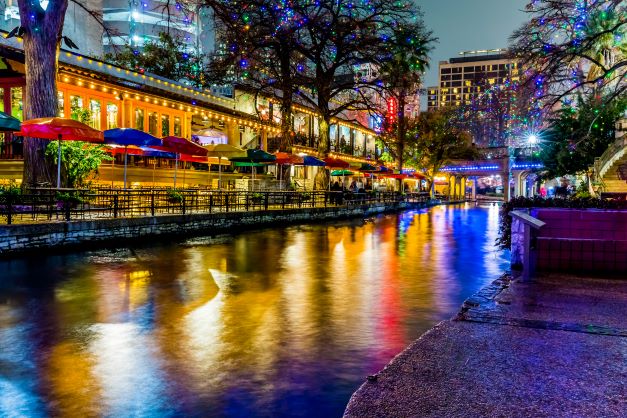 San Antonio is a warm-weather destination the whole family will love, thanks to its top-notch theme parks (think: Six Flags® and SeaWorld®) and world-famous historical and cultural sites.
Consider kicking off the winter season by strolling the River Walk and admiring the 200,000 twinkling lights adorning every available surface — from stone bridges to tree limbs and storefronts. Then make your way to La Villita, home to 25 local artisan shops and galleries featuring handmade goods and hosting more than 200 events a year.
Finally, no trip to San Antonio is complete without visiting the Alamo and Mission San José, the largest mission in San Antonio. However, consider checking out all five historic missions on a day tour if you've got the time. Refuel at Mi Tierra Mexican Restaurant, and shop for souvenirs at Historic Market Square to complete your Texan winter getaway.
Stay: Canopy by Hilton San Antonio Riverwalk
St. Simons Island, Georgia
If you've got a golfer in your travel tribe, make your way to this picturesque barrier island off the coast of Georgia. With six golf courses on St. Simons Island, another seven within 20 miles, and winter temperatures in the mid-60s, it's a golf lover's winter paradise.
Visitors with less draw to the fairways can enjoy fewer crowds along Georgia's 90 miles of shoreline for brisk winter strolls and spotting migrating wildlife. Nature lovers will appreciate the diverse wildlife of more than 400 bird species, North Atlantic right whales and Atlantic bottlenose dolphins.
For a truly unique experience, consider a day trip to Jekyll Island for ice skating at a beachfront skating village.
Stay: Home2 Suites by Hilton St. Simons Island
Key Largo, Florida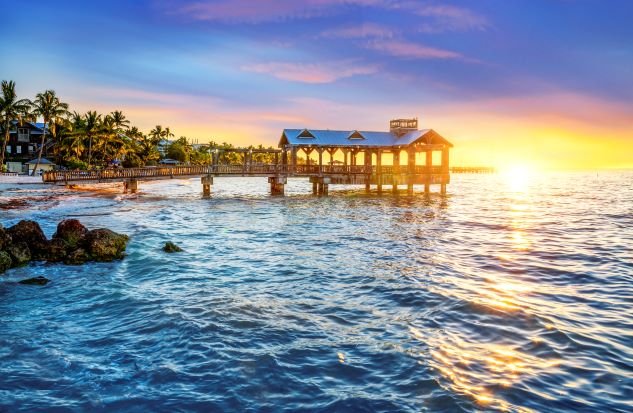 As the southernmost point in the United States, Key West often makes many best warm-weather winter destination lists, but don't discount the northernmost island in the Keys — Key Largo.
Known as the "diving capital of the world," Key Largo is home to John Pennekamp Coral Reef State Park, the first undersea park. But, even if scuba diving isn't your thing, the park is worth a visit. Embark for a day on the water exploring the reefs from a glass-bottom boat.
This underrated island also offers an ideal launchpad to South Florida and the Keys. Take to the Overseas Highway for a scenic drive further south to Islamorada for shopping and feeding the tarpon at Robbie's Marina, making a pit stop at the famous Holiday Isle Tiki Bar on your way back.
Thrill-seeking travelers can check out the alligators and other wildlife at Everglades National Park, or for a low-key excursion, channel Humphrey Bogart and Katharine Hepburn and enjoy a sunset dinner cruise on the fully restored African Queen.
Stay: Baker's Cay Resort Key Largo, Curio Collection by Hilton