Story originally appeared on www.hiltongrandvacations.com.
Thanks to the United States Navy, my family landed in Charleston 47 years ago. My roots are here. I have fond memories of beach days, crabbing, fishing, camping with Scouts and endless bike rides.
History does repeat itself, and now I continue to enjoy these same family friendly Lowcountry activities with my children and grandchildren.
When I was growing up, my school field trips included Charles Town Landing, Middleton Gardens and Magnolia Plantation. However, my most memorable field trip was to Myrtle Beach to adore Brookgreen Gardens for inspiration on sand sculpture ideas.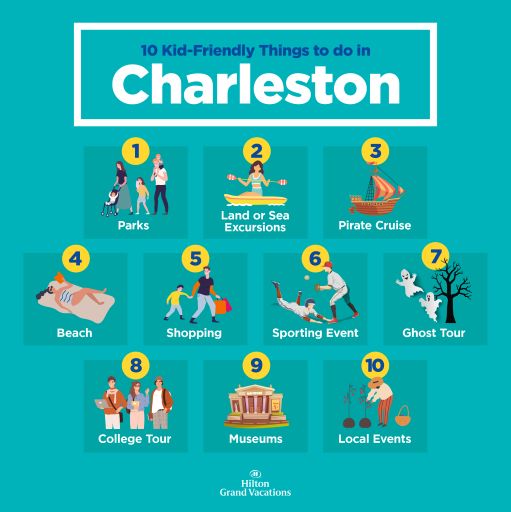 Afterward, we went across the street to Huntington Island State Park to create sand sculptures. I'll never forget how the bus broke down on Highway 17, but that's a story for another day.
I may be a little biased, but I wouldn't want to raise my kids and grandkids anywhere except the Lowcountry. As my kids have gotten older, our local adventures have evolved. We prefer making memories that include the wonderful outdoors. Of course, we love to travel, hence the Hilton Grand Vacation timeshare, but we'll never run out of things to do at home.
So, from a Lowcountry local, here are 10 kid-friendly things to do in Charleston that your kids will love.
1. Discover Charleston's Parks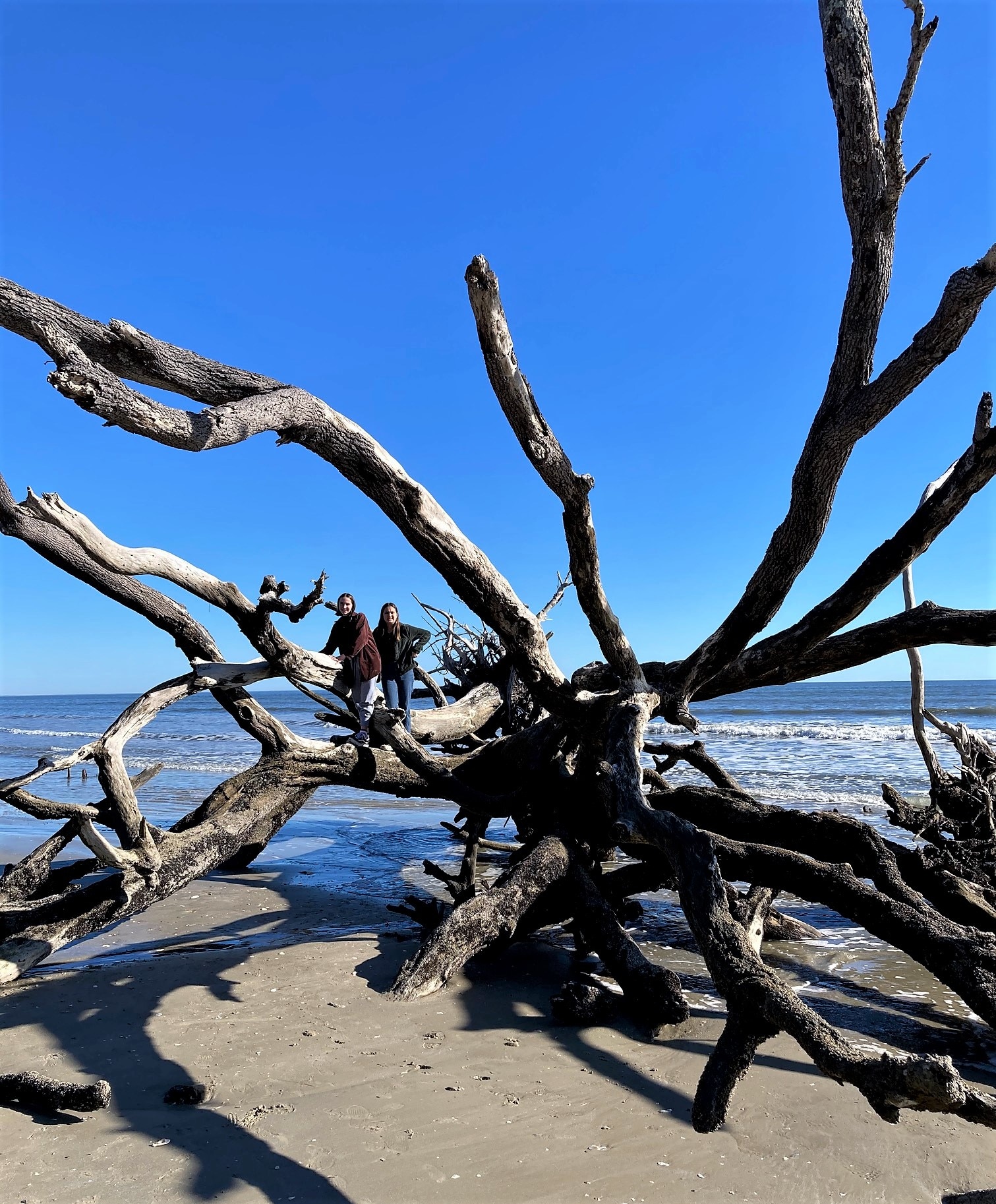 Charleston County has 120 parks which consist of 1,809 acres of parks and maintained green space, including two great water parks. A few of the parks are home to splash pads, and three of the beach parks have restrooms and showers where you can freshen up after a day on the sand.
There are hundreds of miles worth of well-kept trails for you to walk, hike or bike your way to a good night's sleep. Parks with beach access (go early to get parking) have professional lifeguards during peak seasons. Be mindful of the flag system. The lifeguards use it to warn beachgoers about rip tides, and they can change hourly depending on conditions.
Some parks are free, and others include a small entrance fee. Pack a picnic or stop and pick up some take-out at one of our amazing restaurants.
If you're staying at the newly appointed Liberty Place Charleston by Hilton Club, check out South Carolina State Parks to find a day trip destination for Lowcountry outdoor adventures.
As an example, Edisto Beach State Park is an hour's drive. Don't forget to stop at the Krispy Kreme on the way. If you feel extra adventurous, you could stop and make your way to the Boneyard Beach at Botany Bay. It's the hidden gem of Edisto Island. Remember to follow the Leave No Trace Principles, and leave what you find — taking shells is frowned upon.
2. Embark on an Expedition
You can always leave the adventure planning to someone else and book a land or sea excursion with Coastal Expeditions. I recently checked Bulls Island off my bucket list. It is one of my favorite local outings. Disclaimer: if you don't like alligators, this trip is not for you. If you'd rather go kayaking or hunting for shark's teeth, they've got you covered.
3. Set Sail on a Pirate Cruise
It's fun to be a pirate, and I know because we've climbed aboard the Black Ghost. Captain Butler can make those dreams come true for your kids as you search for hidden treasure and defend the pirate ship as Sneaky Pete tries to stop your voyage on the beautiful Historic Ashly River. Arrggh — If only this were around when I was little. However, it's fun for all ages, and I still enjoy it as an adult.
Speaking of different ages and stages, let's talk about traveling with finicky teenagers who are "bored" no matter where you vacation.
4. Explore the Beaches
Let them play volleyball behind the Windjammer on the Isle of Palms or take surf lessons on Folly Beach.
5. Enjoy a Little Retail Therapy
If they've got chore money burning a hole in their pocket, let them spend it at one of our specialty Mom and Pop shops, or at Tanger Outlet Mall, Mt. Pleasant Town Center.
6. Root for the Home Team at a Sporting Event
Enjoy fireworks and America's national pastime for a little good old-fashioned fun at the RiverDogs Stadium on a Friday night.
Our team is pretty good, but the bacon-wrapped deep-fried corn dogs are just as good! Check out the season schedule and ticket information when you plan your trip to Charleston. The sun setting behind the home plate in the marsh is also a site to see. If you're more of a hockey lover, cheer on the South Carolina Stingrays.
7. Take Your Chances on a Ghost Tour
Explore the spookier side of Charleston for a nighttime walking ghost tour. You will leave with some hair-standing knowledge of Charleston History.
8. Participate in a Rite of Passage: The College Tour
If you've got a college-bound teenager, plan to explore the prestigious Citadel Military College or the College of Charleston.
9. Play Museumgoer for the Day
Escape the sticky August air for a day indoors at one of our many museums. Until recently, I kept a yearly pass to the Children's Museum of the Lowcountry — it's a can't miss. From the moment your kids enter the little door, they'll be captivated by interactive exhibits of local history, weather and even a trip through a mini Publix grocery store.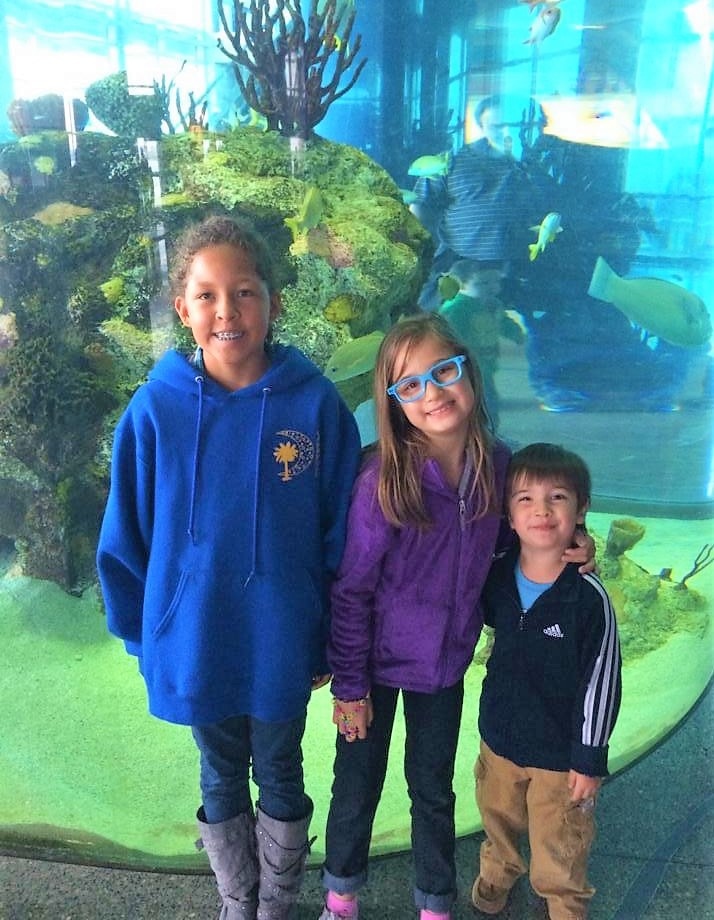 Budding history buffs or art enthusiasts will feel right at home. A quick Google search yields 70 museums in Charleston, but here are six of the most popular.
The Charleston Museum and the South Carolina Aquarium are two of my family's favorites.
Round out the day with some water views and enjoy a stroll across the Cooper River Bridge to cool off. It's just steps away from Liberty Place. The view is spectacular over the Charleston Harbor.
10. Experience Lowcountry Local Life
The area is complete with a variety of local events and local small businesses brimming with southern charm. Before coming, peruse Lowcountry Parent Magazine to discover what's going on in the area.
It's a wonderful resource for things to do with the kids and businesses to support in the area.